2019 CSRT Survey
October 22, 2019

Call for Nominations – CSRT Board of Directors
November 21, 2019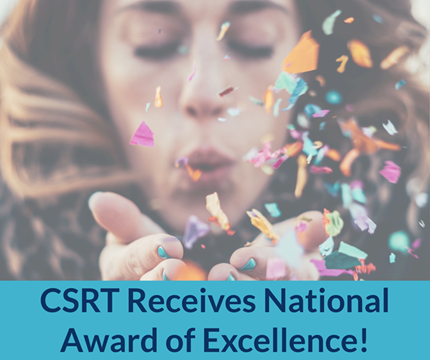 The Canadian Society of Respiratory Therapists (CSRT) is proud to announce that it has been awarded a
2019 Award of Excellence by the Canadian Society of Association Executives (CSAE)!!!
The CSAE Award of Excellence honours "outstanding achievements in association leadership, structure and governance, and the planning and execution of internal, external and integrated programs that serve members".
The award specifically recognizes the CSRT's recent Infrastructure Renewal Initiative. The initiative was summarized as follows:
"When a new CEO was hired in 2017, an internal organizational review concluded that the CSRT operational structure required renewal. The CSRT Infrastructure Renewal Initiative was undertaken to implement technologies that would flexibly support the collaborative work of local and distributed staff and volunteers in order to achieve the association's goals in a cost effective manner. By investing in these opportunities the CSRT has already begun to strengthen the services available to members, all while achieving cost savings."
As the national society representing association leaders, the CSAE serves as an important benchmarking standard for the CSRT. "It is particularly meaningful for the CSRT to be nationally recognized by our peers from other associations", said Dr. Andrew West, CEO, CSRT. "This initiative is translating into opportunities to focus on expanding CSRT programs and enhancing membership benefits."
The award was presented at the CSAE national conference in Vancouver on October 24, 2019. Katherine Nollet, Manager of Outreach and Engagement, was onsite to accept the award on behalf of the CSRT. What a way to celebrate RT Week! For more information on the CSAE, visit
https://www.csae.com
.