Toolkit - Prevention of Repiratory Compromise Through Monitoring
What is Respiratory Compromise?

Deterioration in respiratory status with the potential for progression into respiratory failure or death in which timely specific interventions such as enhanced monitoring or therapies may prevent or lessen decompensation.

Early identification of respiratory compromise is the key to instituting appropriate interventions to avoid catastrophic events.*

*Reference: Morris TA, Gay PC, MacIntyre NR, Hess DR, Hanneman SK, Lamberti JP, Doherty DE, Chang L, Seckel MA. Respiratory Compromise as a New Paradigm for the Care of Vulnerable Hospitalized Patients. Respir Care 2017;62(4):497–512.
* Comorbidities include cardiovascular, lung, liver, kidney or neuromuscular disease; cancer, diabetes, obesity, sepsis, organ dysfunction/failure; CNS injury or disease; chest cage dysfunction, sleep disordered breathing.
Implementing Change in Your Orgnaization
Do you feel your organization should decrease the incidence of respiratory compromise by implementing continuous monitoring?
You can lead high-level changes in your organization!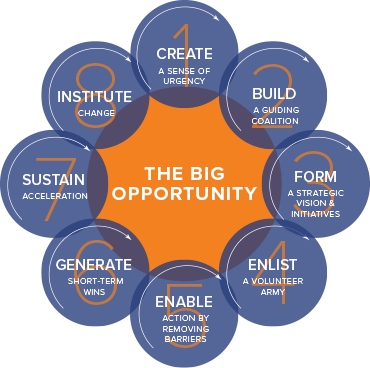 Expand each section for additional details:
1. Create a sense of urgency
If you believe the organization needs to change its systems, policies or procedures to avoid respiratory compromise in patients following surgery, help other team members see the need for change and the importance of acting – for example talk to your colleagues, meet with your supervisor, prepare case presentations to support the change, etc.
2. Build a guiding coalition
Support from other effective people, within your area of practice, will be useful to guide, coordinate and communicate the need for change. For example, once you have support from your supervisor and/or colleagues, work as a team to move the issue up the ladder to effect change.
3. Form a strategic vision
It is important to clarify and develop an evidence-based vision of how you can support the safety of patients by having systems, policies and procedures in place to mitigate the complications from respiratory compromise.
4. Enlist a volunteer army
Change can only occur when a large number of people rally around a common opportunity and championing the same goal – once you have a "guiding coalition" organized, work together to enlist volunteers to gain champions from each area of the health care system.
5. Remove barriers
There will be barriers – by working together to remove inefficient processes and cutting through silos and hierarchies, you can generate real impact that will lead to change.
6. Generate short-term wins
Each small step brings you closer to success – achieving small wins, and celebrating this success, will energize the team of champions to continue moving towards their ultimate goal of making changes.
7. Sustain acceleration
A succession of small steps forward increases your credibility and can lead to improved systems, policies and procedures. Be relentless and determined in making the strategic vision a reality.
8. Institute change
To ensure that everyone sees the value and embraces change, share your story and communicate the connection between the change and the successful implementation of new systems, policies and procedures by your organization.
Guidelines and Knowledge Translation Material