Thank you to all candidates and to everyone who voted!

Director – Cardiopulmonary Diagnostics Perspective
This member of the Board provides leadership on the Board with respect to issues of importance to clinicians working in cardiopulmonary and/or sleep diagnostics.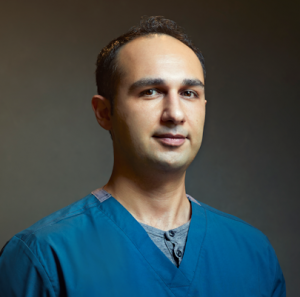 Biography
Farzad is a registered respiratory therapist who holds a BSc in Kinesiology from York University, RT education from The Michener Institute, a Fellowship with CSRT, as well as certificates of Clinical Educator from The Michener Institute and Certified Respiratory Educator from CNRC.

He has held the Lead RT role at both private and hospital based PFT diagnostic labs for the past 8 years. Farzad has been called upon by various organizations to share his expertise, including the Lung Health Association, Aprende Canada, University of Toronto's Physiotherapy program, CJRT's peer review team, and CSRT's Scientific Program Committee.

He previously volunteered for three years as a Director for the Respiratory Therapy Society of Ontario. He also served as the Chairperson for the cardio-respiratory services unit council at Markham-Stouffville Hospital for two and a half years.

For the past 8 years he has operated a RT blog called Respiratory Therapy by Farzad, with a goal of sharing positive stories about healthcare providers as individuals and as clinicians. He has interviewed close to twenty influential and inspiring people in the Canadian RT field. He tries to read an article a month and shares them on his blog to encourage RTs to stay up to date with evidence informed practice.


Statement of Intent
In interviewing numerous RTs for my blog, I enjoyed learning about the reasons why those RTs had selected this profession. I chose this profession because I witnessed the amazing care a family friend received from a RT when they were critically ill. Since graduating from the RT program at The Michener Institute, I have made efforts to be involved in the RT community. I have been called on to be a subject matter expert for various organizations in the diagnostic testing area, such as for the Lung Health Foundation, and as a University of Toronto Physiotherapy course guest speaker. As a contributor to the paper on the Resumption of PFT in the COVID-19 Pandemic, I worked collaboratively with both CSRT and CTS. I previously held a Director position at RTSO, so I feel that experience will help me if elected onto the CSRT Board. My history of volunteering with both provincial and national level RT organizations, work experience as a lead RT in private and hospital based PFT labs, and industry focused blog make me an excellent candidate for this role. My experience and passion for the profession can help me contribute to CSRT and it would be my honour to serve on the Board of Directors.
Director – Student Perspective
This member of the Board provides leadership on the Board with respect to issues of importance to CSRT student members. Please note: each nominee must be a Student Member of the CSRT and a 1st year RT student of a 3-year program OR a 2nd year RT student of a 4-year program.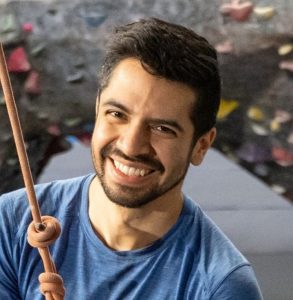 Biography
I'll never forget this day. I was twelve years-old, on my elementary school's basketball team. My coach pulls me aside on a time-out and reprimands me for being the only person he'd ever met who was smiling when the other team scored a basket. I'm relieved that I didn't learn from my coach's condemnation. Since then, I've sought to bring a smile, alongside a collaborative, compromising, and novel attitude to every facet of my life.

Professionally, I've prioritized a diversity of experiences, which I hope to bring to this role. I've worked at Chapters and MEC. I've tree-planted in the backcountry of Algonquin Park and dangled, hundreds of feet off the ground, as a high-rise window cleaner. I've worked as a youth worker and even a fine-dining cook. The work I'm most proud of is working at SickKids as a research student on the CHILD cohort study, researching the development of asthma and allergies. More recently, I've worked as the Programs & Operations coordinator for Boreal River Rescue, coordinating the delivery of whitewater and remote-medical rescue training across Canada.

Academically, I've completed a BSc in Health Studies at the University of Waterloo. I am now pursuing this incredible career at Conestoga College. Yet, my best education might have come from outside the classroom. I spent my free time doing what students do: as the president of a volleyball club, a residence don, an orientation-week coordinator, and a faculty endowment fund Chair.

Personally, I'm an avid outdoor and indoor rock climber, I train and strive to scale North America's most prominent rock faces. My hope for this role is to take my attitude and grab-bag of diverse experiences and introduce a unique perspective as an advocate for the RT profession and a voice for the student experience.


Statement of Intent
What does it really mean to be an RT? Will I enjoy it? Will there be a job for me when I graduate? How has the profession failed to meet the needs of marginalized groups, and what can we do about it? Will advancements in technology make RTs more essential or obsolete?

I come to you sharing some of the same aspirations, insecurities, naivetés, and questions you may have felt as a student. For me, it's crucial that whoever holds this role is deeply invested in the direction of our shared future. As the Student Perspective Director, I intend to jump into the role with more questions than answers. If given the opportunity, I would also like to advocate for proactive initiatives that challenge inertia where it exists. To this end, I feel strongly guided by values of collaboration and compromise while maintaining critical regard for our weaknesses and blind spots.

Most importantly, I want to acknowledge that my ideas alone cannot represent the incredibly diverse student perspective. So, it deeply matters to me that I actively strive to be a mouthpiece for others. If you can connect to what I've written, I humbly ask for your vote and support for the Student Perspective - Director.

For now, I should probably learn to walk before I can run. But my long-term ambitions include advocating and growing this profession as part of organizations like the CSRT. This profession has come so far in such a short time, and I genuinely believe there is more room left to grow. I hope I'm lucky enough to play a part in building that future.

Thank you for your support and consideration!