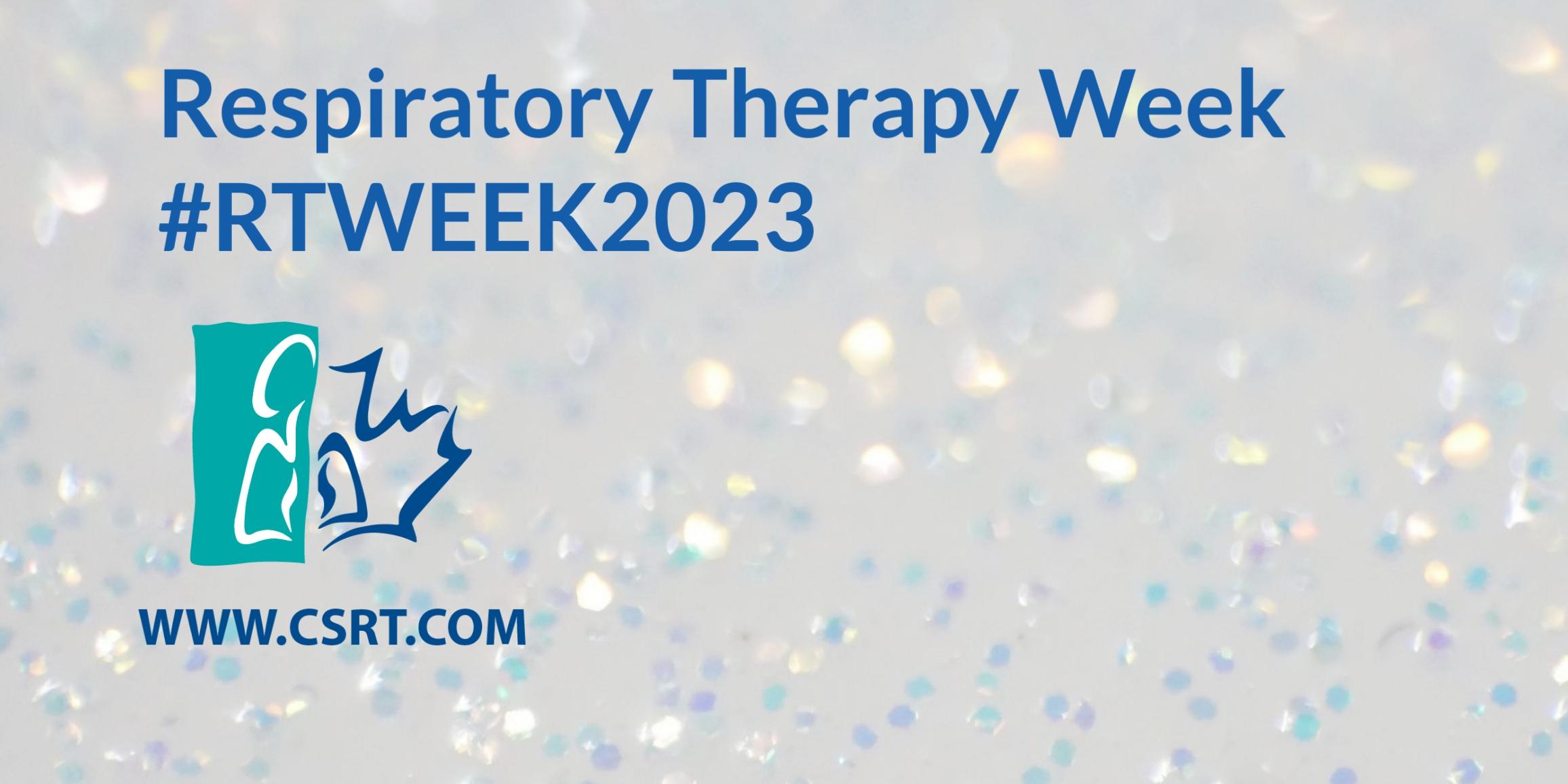 October 22nd - 28th, 2023
Inspiring Excellence in Respiratory Therapy
#RTWeek2023
Did you know?
The CSRT proclaims the last week in October as Respiratory Therapy Week in Canada, to celebrate the respiratory therapy profession and the outstanding dedication and passion of RTs. This includes all areas of respiratory therapy practice, including anesthesia assistance.


Save the date!
RT Week 2024 is October 20-26.


A Message from CSRT President, Kuljit Minhas!

Navigating Extubation Outcomes through Predictive Insights
Tuesday, October 24 @ noon EDT
Speaker: Ramandeep Kaur, PhD, RRT-ACCS, AE-C; Rush University
Extubation failure occurs in up to 20% of patients and is associated with poor outcomes. This presentation will discuss the predictive ability of the three common respiratory indexes or weaning scores on extubation failure.
Inhale for Change: Sustainable Inhaler Use for a Healthier Planet
Wednesday, October 25 @ noon EDT
Speaker: Jasmine Mohan, RRT; Royal Columbian Hospital
CSRT & CJRT Virtual Open House
Thursday, October 26 @ noon EDT
Stop by between 12pm and 4pm to visit with CSRT and CJRT staff!
Ask all the questions you have about membership, the CSRT, the CJRT, getting involved and anything else you would like to know,
or just drop by to say Hello!
We will be emailing out a link to all CSRT members, with instructions on joining the Open House virtually, on the morning of October 26th.
No registration needed!
Non-members are welcome, email csrt@csrt.com for the link to join the Open House.
Earn tokens for every live event you participate in during RT Week!
You could win a $100 gift card!
1 token is issued for each webinar (registration required) attended
and for dropping by the Virtual Open House (no pre-registration needed)
Use #RTWeek2023 on social media during RT Week!
You could win a $50 gift card!
Share your RT Week activities, engage with posts and use #RTWeek2023 to be entered in a draw to win a $50 gift card!
RT and CSRT Swag available for a limited time only!
The Store will be open from October 18th through to the end of RT Week.