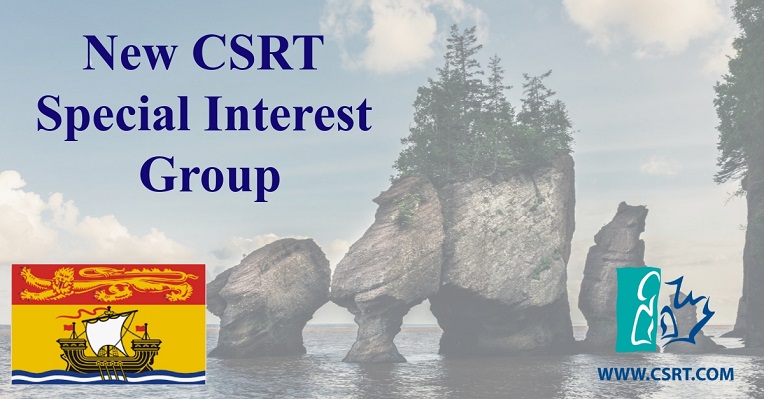 New CSRT Provincial Special Interest Group (New Brunswick)
January 25, 2022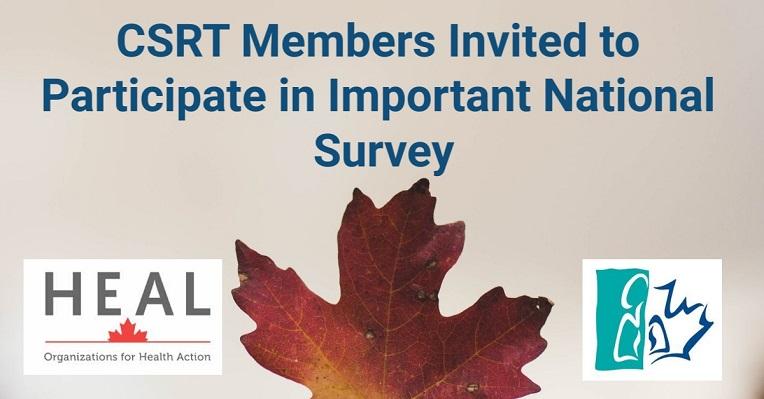 CSRT Members Invited to Participate in National HEAL Survey Looking at Workplace Issues and Satisfaction
November 2, 2022

Dear CSRT members,
Since the COVID pandemic began, the RT profession has received more public attention than ever before – whether that be by media, health system leaders, or politicians. But we know all too well that despite this public profile, the recognition RTs receive for the work they do is much too little, and far less than that of several other health professions. We know that it can be disheartening to be overlooked and we are working to address this.
As we approach the two-year anniversary of the WHO pandemic declaration, we recognize a grim marker. This marks two years of RTs working on the frontlines with the sickest of the sick, two years of RTs adjusting and adapting to new policies and new protocols, two years of wondering when the pandemic will end. This anniversary also marks an achievement. The public knows who you are more now than ever. Interest in the profession is growing, and RTs have stepped up whenever they have been asked to. Two years into this health crisis, and the tenacity of RTs remains evident.
However, this milestone also marks a troubling moment in time when many RTs are suffering the impacts of the pandemic themselves. That may mean being infected with COVID-19, or being impacted by all too common psychologic strains that are being fueled by stressful work and home lives. While the public finds hope in knowing that the current Omicron surge may finally be plateauing, RTs know the personal toll of the pandemic continues to rise.
We see you. We hear you. And we care.
As your national community, CSRT has been working tirelessly since the outset of the pandemic to increase
awareness of who you are
, what you do, and the challenges you are facing. CSRT advocacy efforts have occurred in both the public realm, and also more quietly behind the scenes over the past two years.
The CSRT has been in direct communication with senior government officials at the federal and provincial levels and with media. We launched the first ever national RT promotion campaign using digital platforms aimed at the general public. In the work the CSRT does each day, we are noting a substantially increased awareness of the profession amongst politicians, media, and the public – the narrative is shifting. It is becoming more commonplace to see RTs in the media now, and government ministries are more familiar with the profession than ever. Our recent promotion campaign reached over 4 million people in Canada alone. But there is still work to do.
We know you don't always receive the recognition you deserve, and this is a top priority for the CSRT.
We see the impacts that the combined pressures of the pandemic and limited recognition are having on RTs. Ongoing CSRT surveying has shown that over 95% of RTs are concerned about the toll the past two years have placed on their mental health. We hear reports of health professionals leaving practice due to these issues, and for the first time seeing significant numbers (33%) of RTs questioning the profession as a career choice. These are sobering trends that are of concern to us as individuals, and to the healthcare system as a whole. Most recently 80% of RTs surveyed indicated that they are concerned about the availability of sufficient numbers of RTs to provide necessary patient care in their workplace.
This is a critical juncture for the RT profession. At a time when awareness of the profession is at it highest, that can be the moment when our collective narrative changes from one that asks "do they know us" to one that asks "how do they see us". This moment calls upon us not to see things differently, but to do things differently – to command respect through deeper understanding. It is for all these reasons that the CSRT continues to provide a voice for you and for the profession. Our advocacy efforts have once again been refocused to take aim at the evolving issues being confronted by you and all RTs across the country.
In recent months, the CSRT has collaborated with the
Canadian Medical Association and Canadian Nurses Association
to demand immediate supports for health professionals, and for long term system wide changes that can safeguard and strengthen our system. The CSRT continues to work with our colleagues across 40+ health organizations as part of
HEAL
(Organizations for Health Action) to support the government in defining a renewed Canadian healthcare system. Our advocacy efforts also include direct communication with government officials and politicians aimed at enhanced recognition for RTs, and with media outlets to advocate for proper representation of RTs in the public narrative.
Above all else, the CSRT wishes to directly tell you how much we value the tremendous efforts and immense sacrifices you have been making through every step of this pandemic.
Serafina Chau, an RRT at the Royal Columbian Hospital in British Columbia was recent profiled by the
Vancouver Sun
. In the interview Serafina states "No matter what choices people make, we got into what we do to care for people, whatever it is that gets them in the hospital, judgments aside". It is this kind of dedicated, accepting, and compassionate approach to patient care that has characterized RTs since the birth of the profession. The CSRT will continue to champion awareness of these attributes to those outside the profession on your behalf.
Please continue to share your thoughts and challenges with us. You can do so through our
member COVID-19 survey
(closing on February 28), by e-mailing or by calling the offices. Your ongoing feedback will allow us to ensure our efforts remain on target.
Sincerely,
Dr. Andrew West, CEO
Canadian Society of Respiratory Therapists